Form
Definition
A form is any asset that requires visitors to input information into a user interface to continue or complete a user journey. This includes registration forms to open accounts, email capture forms for subscriptions, updates or white papers and check-out forms for transactions.
Best practice indicates that a form should be as short as possible. You should only request information that is absolutely necessary and relevant for the end goal. Mobile forms are the often the most challenging because of the size of the screen and the context of the mobile user. For this reason it is especially important to optimise forms for mobile devices to reduce friction and minimise usability issues.
Research conducted by the UK Government's Digital Service found that simple one question per page designs consistently worked best for their users. This is especially suitable for mobile forms as the screen is so small. The online casino Casumo.com has applied this to their sign-up form below which has 12 steps.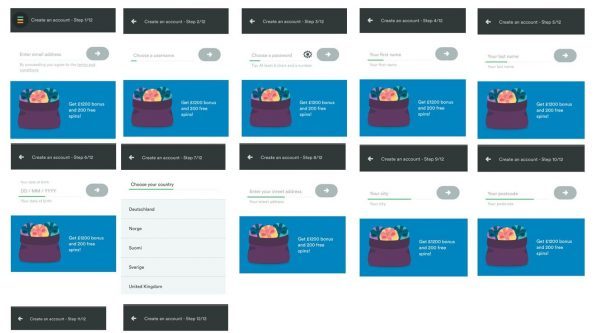 It would be interesting to know if they A/B tested this approach as it may work best on forms with fewer questions. PokerStars for instance use the same approach, but only have four questions on their form. Is there an optimal number of questions for one page per question forms or does it not matter?
Resources:
Conversion marketing – Glossary of Conversion Marketing.
Over 300 tools reviewed – Digital Marketing Toolbox.
Usability testing – How to do usability testing to boost conversions.
A/B testing software – Which A/B testing tool should you choose?
Credit: