Lift Model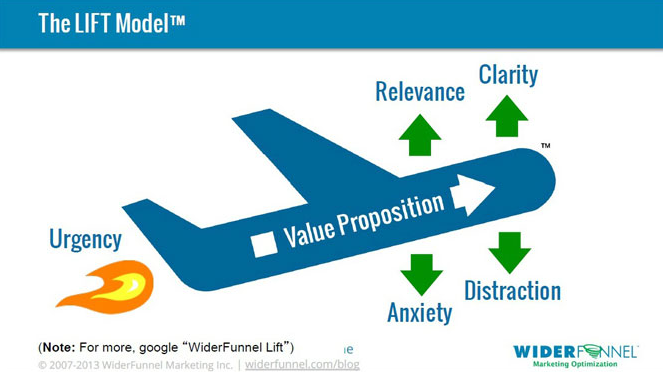 Definition
The Lift model from Widerfunnel is a commonly used framework for evaluating a digital experience using a heuristic evaluation. It identifies six key factors that influence your conversion rate; the value proposition (which is core to any optimisation process), relevance, clarity, anxiety, distraction and urgency.
1. Value proposition
2. Relevance
3. Clarity
4. Anxiety
Another common mistake is not providing positive feedback to users in the form of progress indicators and the like. Remember the goal gradient effect means users are more motivated by how close they are to a goal rather than how much they have achieved. Even the perception of progress can help speed users along.
Avoid creating new icons for navigation because these can also create anxiety. Even the hamburger button performs worse in most tests than a simple menu label on a button. Labels always perform better than icons and hidden navigation reduces engagement.
5. Distraction
6. Urgency
7. Bonus
A/B testing with free tools like Google Optimize is the best way to validate an heuristic evaluation. If you are working on a major website or app, it's always best to test changes first in case it has a negative impact on conversion. If you are a developer and code tests check out these top tips and tricks for coding experiments.
Resources:
Heuristic evaluation – How to conduct a heuristic evaluation of a website.
A/B testing software – Which A/B testing tools should you choose?
Types of A/B tests – How to optimise your website's performance using A/B testing.
Credit: