Creating Optimised Online Forms with Paperform
Creating Optimised Online Forms with Paperform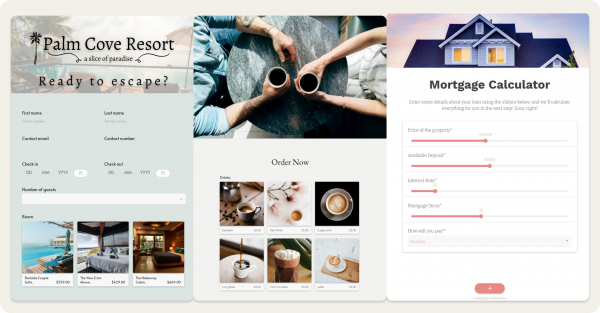 Creating online forms that look professional and work for both the user and your website is one of the most important aspects of conversion rate optimisation. There can be a tendency to focus on users who complete an online form, rather than those who never begin one.
This is an unconscious inclination called survivorship bias. This tells us that people who complete a process are often changed by that experience and may not reflect most users. It also indicates we should prioritise the essential infrastructure of our site. For example, sign up forms and landing pages, for optimisation. That's where we can have most impact on the viability of our site.
It's important when creating online forms that we have a clear understanding of our target audience before designing them. This includes the specific use cases which attract visitors to your product or service. Best practices for web form design can help guide your design decisions. Always try and find out as much as you can about your target user.
You should also consider other relevant characteristics such as their age, gender (i.e. 11% of men are colour blind), web literacy and accessibility, technical skills and interests that may be relevant to usage and their value as a customer.
1. How can Paperform Help with Optimisation?
Unlike many web applications Paperform is a dedicated no-code solution to creating forms. It combines thoughtful design with serious digital smarts. You can take payments, schedule appointments, collect information and put manual processes on autopilot.
You can either create online forms from scratch or use one of their 650+ professional templates. These have been designed with specific use cases. Templates include your common new customer registration and client onboarding, but also many other useful form designs for GDPR, customer exit survey, product review and design scope and services. Having a variety of templates for different use cases provides a good starting point when optimising your form.
Paperform is a professional alternative to Google Forms due to its versatility. The custom HTML and CSS capabilities, its growing 27+ question fields and its integration capabilities with over 3,000 popular marketing solutions, means it's ideal for various professions, from designers to eCommerce platforms
2. Signing up to Paperform:
The solution offers a very quick sign up process and a 14-day free trial of Pro so that you can check out the full functionality of the platform. Unlike many SAAS solutions you don't have to provide credit card details, so there is no risk of getting charged because you forgot to cancel.
The account dashboard does give you a prominent reminder of how many days you have left until your free trial and so you shouldn't lose access without sufficient warning. When logging in for the first time I'd recommend you watch the onboarding video to take you through the process of creating online forms. It's not too long and it's very informative.
3. How to create online forms:
If you can find a suitable template in the dashboard it's worth selecting this first as it's easy to edit them to fit your individual needs. To edit the form it's just like a Word document. With its free-text interface, just click into the text to change it or highlight the text and a menu appears to enable you to change the style. This allows you to change the heading type for SEO (H1 or H2), adding links and standard alignment options.
To add content to the form heading use the icons on the left to add a video, image, break or a question. I added a logo and then adjusted the size by selecting and dragging. Even if you don't like the questions on offer in the template it's very easy to remove them or change them to better meet your needs. Again, simply click into the text and change the wording. You can also set help text for users which can be used to explain why you need the information.
Question Types:
The templates offer all the types of questions you are likely to need. From the usual text fields, email, Yes/No or multiple choice options to complex calculations, payments, ranking and matrix fields. To configure questions simply click on the cog icon to the right of the question. This allows you to set mandatory and optional questions, create rules around the visibility of certain questions, add placeholder text, set the format of inputs to validate the field (e.g. for telephone numbers), and display questions in two columns.
In addition, the configure function allows you to pre-fill questions with data you already have. This is a great way of improving completion rates as it allows you to personalise the form by passing data via a URL or dynamically pre-fill questions in embedded forms. You can pre-fill up to two questions using a question pre-fill key and you can pre-fill email address by simply adding it to the end of the form URL.
4. Getting the most out of Paperform:
The real power of Paperform is its digital smarts. While most form builders are either pretty or designed for powerful conditional logic, Paperform combines. Perfect for people looking to transform their business with smart forms and reduce busywork. Add custom pricing, complex calculations and tailored success pages. Paperform's versatile SaaS platform helps you create fully customisable, powerful solutions tailored to your unique specifications.
Configure your form:
The configure menu allows you to manage your payment gateway (including coupons and dynamic pricing), but also integrate with web analytics and the Facebook pixel. Form behaviour provides for enabling CAPTCHA to protect against bots and setting rules to limit form submissions according to your requirements. If needed you can also set rules according to how users respond to specific questions. This will allow scoring of prospects for evaluating credit risk and fraud prevention.
After Submission:
Once users have completed your form this allows you to send an email summary of the submission and set success pages and redirects. In addition, you can allow users to download custom PDFs from the forms submissions page or email a PDF to users. Paperform also integrates with popular marketing and CRM platforms including Mailchimp, Hubspot, Mailshake, ActiveCampaign, Zoho CRM and many more. For more custom Paperform integrations, you can use an integration platform like Zoho Flow.
Share:
You can share your web form on social media using a dedicated URL and embed to your website using a code snippet. This allows you to insert the form onto an existing page, create a full-page view or trigger a pop-up on any page when the user clicks on a link. You can allow users to decide when they can access your form rather than pushing them to a specific page.
5. How much does it cost?
Given that web forms are an essential part of the user journey. Design and reliability should be the primary concerns rather than cost. However, for a small business with less than 1,000 monthly form submissions Paperform can cost as little as $20 a month (the essentials package). This allows for up to 10,000 page views a month, unlimited integrations, 27+ question fields and covers 5 domains.
Larger businesses which require an unlimited number of page views and submissions can access Paperform for $40 a month (Pro). All plans provide up to payment and calculation capabilities, unlimited forms and removable Paperform branding. Finally, For organizations and businesses that are after multiple users and storage, as well as custom HTML and priority support. Paperform have their agency package ($135 per month). This also allows for 5+ users.
Summary:
Remember to consider the specific user cases and the context of why the user would want to complete your form. Form optimisation should always begin with the user. Only include questions you can't do without and that users can easily answer.
Plan the order of questions so that they follow a logical sequence. Always position more confidential or difficult questions towards the end of the form. Consider any rules for the visibility of questions and whether there is value in setting the format of specific questions.
Only once you have a clear plan of what you need should you proceed with signing up to a form design platform like Paperform. Use the 14 day free trial period to test out the solution to ensure it fully meets your needs.
Find a suitable template as it's easy to amend and tailor it to your requirements. Otherwise you have the option to start with a blank sheet and create your own form from scratch. Add questions using the simple user interface, configure the type of question and set visibility rules. Where you already have answers to questions use the pre-fill key to pass data via the URL.
Form configuration allows you to set a CAPTCHA to protect against bots, set rules on form availability and decide how you want to take payments. At this point you can also integrate with your web analytics and add your Facebook pixel. After submission enables you to set up confirmation emails, success pages and redirects, custom PDFs and integrations with other platforms.
Finally, don't forget you can share your online forms via social media. You can also give control to visitors to your website on how they wish to access it. Paperform is certainly a very versatile solution.
Featured image by Paperform.co
More reading
Automating A Complex Funnel Visualisation in Data Studio
How is Coronavirus Changing Digital Marketing?