How Do Visual Design feedback Tools Help Optimise Websites?
How Do Visual Design feedback Tools Help Optimise Websites?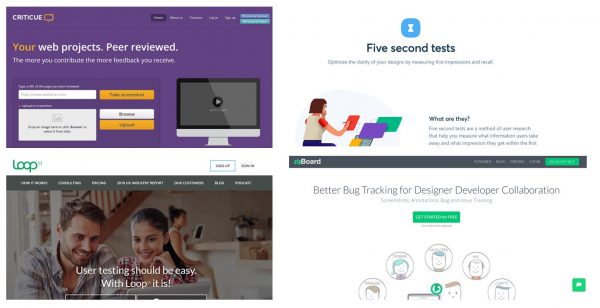 Why visual design feedback?
Insightful visual design feedback can prevent changes being made to your site that can damage the user experience and reduce your conversion rate. Your website should be like a highly-tuned racing car that provides a high performance and competitive driving experience. A website's code, design and content are like the car's engine, body and fuel respectively. Visual design feedback provides useful insights so that you can continuously improve the performance and design of your website.
Understanding the user experience:
The key that sets your website apart from your competitors' is how well informed you are about your target audience, their behaviour, goals and expectations. For a quick health check of your website you can ask yourself one simple question: What is your bounce rate?
As Jay Peyton mentions " As a rule of thumb, a bounce rate in the range of 26 to 40 percent is excellent. 41 to 55 percent is roughly average. 56 to 70 percent is higher than average, but may not be cause for alarm depending on the website. Anything over 70 percent is disappointing for everything outside of blogs, news, events, etc."
However, as Neil Patel defines it "A "bounce occurs when someone visits your website and leaves without interacting further with your site." So your bounce rate tells you what percentage of visitors are not interacting or are not able to interact with your website.
This may make you question if your content marketing strategy is effective enough. But on its own your bounce rate does not explain anything. Web analytics can help answers some important quantitative questions about your website:
Questions Part 1
How quickly does your website load?
Where do most visitors drop out of your conversion journey?
What is the most popular content on your site?
How do visitors come to land on your site – what is the source of your traffic?
But to diagnose problems with your user experience you need to understand the "why" rather than just how big an issue is. Visual design feedback tools like ZipBoard can assist you in this process by answering questions:
Questions Part 2
Does a quick glance at your website explains what you do?
Can your website users/visitors easily navigate to a page of their choice?
Do you have your blog, social media links, testimonials and user case studies prominently displayed on your website?
Are the error pages(4xx, 5xx) handled and configured properly?
Is the website design responsive to cover the whole range of devices?
Is your content optimised based on keyword research?
Does the website have marketing friendly analytics and a flexible CMS in place?
Are you gathering contact information for all of your website visitors to facilitate lead generation?
These kinds of questions need answers to understand your user experience and how to improve your conversion rate.
Who to ask?
Your internal team members, clients, users and SMEs can be a great resources to get meaningful and genuine response to these questions on design feedback.
How to ask?
You can ask direct questions via email surveys and telephone calls and use spreadsheets to analyse the data. But in this digital age you also have access to many smarter alternatives. You can use visual design feedback tools like zipboard or usability testing tools like Hotjar or even eye tracking software which tracks where on a screen a user's gaze is focused.
Benefits of visual design feedback tools:
Visual design feedback tools can work especially well if you are moving to digital methods for collaboration (e.g. Slack) and workflow management. Visual design feedback tools can help you get comments and suggestions even before your website goes live for real users or beta users.
It is Simple
It does not require any expertise to obtain, understand or share feedback. Design elements including HTML web pages, landing pages, banners, etc. can easily be shared with your target audience of users or whoever you need to get feedback from. You can simply share links for your resources via email, Slack or any other communication mediums of your choice.
Users can then review your work and share their thoughts by annotating over your design directly. Pinpointing the design issues visually makes it easy to give as well as understand feedback.
Other Benefits of Using a Visual Design Feedback Solution:
Gather and collate inputs from different sets of people using the same platform (i.e. you have a centralised location for all the website notes that you can refer to anytime).
Collate and tag feedback to analyse inputs in order to identify patterns and major areas that need attention. This helps to organise the feedback in a structured way that can be accessed even at a later stage in the design process.
Prioritise feedback according to the impact on the business and user experience.
Turn feedback into actionable tasks that you can assign to designers and developers and tie them to a specific timeline.
Track the status and progress of your agreed action plan.
Collaborate and communicate with internal teams and external stakeholders alike and keep all in sync. Keeping internal teams and external stakeholders on the same page makes the workflow transparent, fostering trust and building relationships.
It serves as platform to get real-time responses in case any ambiguity arises while interpreting feedback or when resolving issues mentioned in the feedback. It acts as a direct communication channel between the one who is giving feedback and the one who is fixing it. Thus saving time and avoiding misunderstandings.
Keeps the feedback process simple enough for everyone and does not require any prior training or learning. Even non designers can easily share their feedback on design and share their business concerns and ideas.
Conclusion:
First impressions matter and your website creates that impression for your product or service. Your website communicates your value proposition and how you can meet your customer's needs. If your visitors cannot easily understand what your website says, they will not see how you can help them solve their problems.
This will undermine all the money and hard work you have invested in your website. To avoid such a situation it's best if you seek out feedback in time to allow changes to made to your website. Asking for feedback and collecting it from the right sources is one aspect.
Next
You need to understand, analyse and incorporate feedback in your web design. Using a system that makes it easy to collect, structure , understand and analyse feedback will help immensely.
A website is never finished, but optimising it over time will give you better conversions and it helps builds your brand's trust. So, never stop gathering feedback and utilising it, as with the right visual feedback tool you can ensure your visitors will enjoy using your website and will be more likely to return and convert
More reading
10 Tips To Create An Awesome Whiteboard Animation Video