The Psychology of Brexit – Why Emotions Won!
The Psychology of Brexit – Why Emotions Won!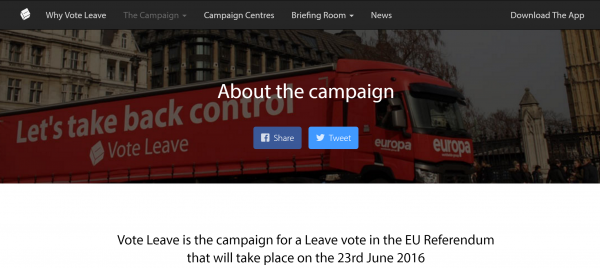 Brexit – WTF happened?
The Brexit UK European Referendum captured world-wide attention and generated intense and passionate debate in the UK. Despite the economic arguments being clearly in favour of Remain, as no one could accurately predict the impact of Brexit, the UK is now heading out of the EU.
The Remain camp and their "Project fear" strategy completely failed to win the hearts and minds of older voters in particular. The fatal error the remain camp fell into was to rely almost solely on rational considerations. Emotions, social influence and mental short-cuts are often more powerful drivers of behaviour than logical analysis of a problem.
But why was the Leave campaign more successful at engaging people at an emotional level? The Leave strategy focused on messages about Brexit that triggered strong emotional responses (e.g. autonomy – getting back control) and encouraged voters to discuss issues that they were concerned about (e.g. immigration).
Herd Mentality:
We are super social creatures who seek out and interact with other people as part of natural bonding processes. As a result our herd instinct means that our opinions and behaviour is more heavily influenced by our social networks and what we think other people are doing than we are aware of. For this reason controversial statements that spark a conversation between people are more persuasive than simply communicating a rational argument to inform voters. The Leave campaign extensively used emotive promises and a narrative about the EU to encourage word of mouth conversations that spread across social networks.
Our herd mentality appears to have helped the Brexit campaign gain momentum as they were initially well behind in the opinion polls. David Cameron hugely underestimated the depth of feeling in the provinces about factors such as immigration and economic inequality, and a general disillusionment with the EU among older voters.
People copy opinions and behaviour if they want to fit in with their social networks. The Leave campaign galvanised support using strong psychological narrative (e.g. taking back control) to grab attention and generate discussion. This was helped by a very negative, almost bullying strategy by the Remain campaign which may have alienated many undecided voters who then supported Brexit .
Emotions Override Rational Thinking:
Emotions are one of the most powerful influences in our decision making tool kit. Many of our judgements and behaviour are directly influenced by feelings of liking or disliking rather than rational consideration. And yet Remain constantly focused on rational arguments and the negative consequences of leaving the EU. Perhaps as a consequence of this leavers appeared more motivated than remain supporters because those parts of the country that voted remain had the lowest turn out.
People also have a tendency to like (or dislike) everything related to a person and so having a popular politician spearheading (i.e. Boris Johnson) Brexit may have been sufficient for some people to align themselves with the leave campaign. In this sense the Remain campaign may have lost support from Labour voters because David Cameron was of course the leader of the Conservative Party. Continued austerity and a Government focused on London and the South East may have further alienated many voters from supporting a campaign strongly associated with the leader of the Conservative Government. This was probably further compounded by the low key profile of Jeremy Corbyn during the campaign as he did not appear totally committed to the cause and some people accused him of supporting Brexit.
Loss Aversion:
The Brexit campaign were especially good at using basic psychological triggers to cut through the noise. They consistently used loss aversion, our tendency to be more concerned about potential losses rather than gains, to grab attention. Leave played on gut feelings around jobs being taken due to immigration, the subsequent drain on the NHS, and wage stagnation. An emotion often linked to loss aversion is regret which people try to avoid at all cost. The Brexit campaign used this to their advantage by emphasising that the referendum would be a once in a life time opportunity to break away from Europe.
Autonomy:
People are also strongly motivated by the desire to be in charge of their own destiny. Leave tapped into the issue of a lack of power and control by talking about the EU being un-democratic, and limiting our ability to set laws and manage immigration. Immigration is again a deeply emotional subject for many people and although the Leave campaign may have been regularly criticised for focusing on this issue it undoubtedly resonated with older voters. But most importantly all these issues supporting Brexit were framed around "taking back control" even though they could not offer any guarantees that immigration for instance would actually fall.
What You See Is All There Is:
People are heavily influenced by what information they can easily access about a topic. Few people have the time or inclination to seek out alternative sources of information to validate stories they read in the media. Indeed, Boris Johnson confessed to a fellow journalist to making up stories about the EU when he was the EU correspondent for The Telegraph newspaper.
Given the amount of misinformation about the EU circulated over the years it was always going to be difficult for the EU to get a fair hearing. There were at least ten myths about leaving the EU that Brexit supporters used to persuade people to vote for Leave.
Project Fear:
As humans we hate uncertainty and suppress ambiguity because it makes us feel uncomfortable. Project fear certainly communicated uncertainty about an exit from the EU. This is one reason why status quo bias often leads us to avoid change because outcomes are more predictable if we stick with existing option.
However, project fear was a tactical mistake because it was almost entirely a negative message and it mainly related to macro-economic matters. This was too rational a strategy as such issues often appear remote from daily life and less relevant ordinary people. Further, project fear was reinforced by various threats from both the Remain camp (e.g. emergency budget & more austerity cuts), and external parties (e.g. Obama & OECD). This may have came across as bullying rather than a considered argument and probably resulted in anger which would have alienated voters from the Remain point of view.
Telling a positive story:
People are naturally much more motivated when they have a clear purpose in life and can see how their actions relate to personally meaningful goals. The EU was originally set up with the intention of bring once warring countries together in a peaceful and collaborative community.
And yet the Remain campaign failed to tell a positive story about the overall goals and achievements of the EU. For instance the EU has been successful at encouraging the advance of democracy and western economic thinking in Eastern Europe, improving workers rights and protecting press freedom. Very little attention was paid to this aspect of the debate and yet having a purpose is one of our strongest psychological motivations.
Some of the most passionate speakers for Remain (e.g. Shelia Hancock) focused on these higher goals, but the official campaign completely ignored these more emotionally engaging and meaningful messages. The Remain campaign failed because those in charge did not understand basic human psychology and motivations.
Related to this post is:
Are referendum a device of dictators and demagogues?
Do opinion polls influence voters?
More reading
Eye-Tracking For Conversion Rate Optimisation
Referendum a "Device of Dictators and Demagogues"?